---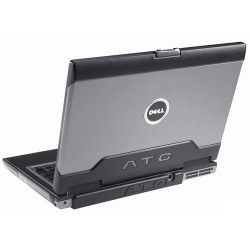 Durable Outside, Powerful Inside
The Latitude ATG is a tough, All Terrain Grade laptop designed for demanding work environments where dust, vibration and moisture are daily facts of life. Fully compatible with the standard Latitude D630, the Latitude ATG boasts a range of innovative features that can protect it from some of the harshest work environments and enhance its usability in demanding conditions. Perfect for industries like construction, manufacturing and oil and gas, as well as public organizations like police forces, the Latitude ATG is designed to put a high-performance business laptop in an incredibly durable and usable package.
Rugged, All-Terrain Performance
Built and tested to meet MIL-STD 810F, a tough military standard of durability, the Latitude ATG is designed to meet almost any physical challenge it might meet in even the most demanding work environments. It features a shock-mounted, removable hard drive, a shock-mounted LCD screen, a dust and spill-resistant keyboard, port covers and more. The Latitude ATG is prepared for dust, humidity, vibration and high altitudes, plus a lot of the accidental bumps and knocks that are part of the territory when you're working in the field.
High Durability Textured Paint
The Latitude ATG LCD back and edges are covered in a highly durable, textured paint that provides an additional layer of protection against scratches, scuffs and the daily wear that can come from working in demanding environments.

Innovative Design
In addition to being rugged and durable, the Latitude ATG is designed for great usability in a variety of difficult work environments. It features a super-bright 500-nit LCD display with anti-reflective coating, so the screen can be easily seen on even the brightest days. On the other hand, if you're working in dark environments or at night, the ATG's special ATG task lights will illuminate the keyboard so you can stay productive anywhere. These features, along with its durability and high performance Intel Core 2 Duo dual-core processor, make the Latitude ATG a force to be reckoned with.
Dell Latitude ATG D630 Laptop Tech Specifications
:
Processors

Intel  Core  2 Duo Processor

Up to T7700 (2.40GHz,4MB L2 Cache)

Users who want an ultra-mobile laptop with a full-sized keyboard, widescreen display, blazing graphics, and robust video chat capabilities.

  Operating Systems

Genuine Windows Vista  Ultimate with Downgrade Rights Service to Windows  XP Professional Genuine Windows Vista  Business with Downgrade Rights Service to Windows  XP Professional Genuine Windows Vista  Ultimate Genuine Windows Vista  Business Genuine Windows Vista  Home Basic

For more details on Dell systems that run Windows Vista, seewww.dell.com/vista.

  Hard Drives

New Optional Solid State HD

Provides better performance and its lack of moving parts is designed to provide greater durability

Capacities up to 32GB

---

ATG Shock Mounted 80GB2 4200 RPM internal hard drive

Capacities up to 80GB2

1: HDD Case Top Cover 2: 1.8" 80GB2 4200RPM HDD 3: HDD Carrier Door 4: HDD Carrier 5: Rubberized HDD Casing 6: Magnesium Alloy Casing

  Displays

Outdoor Viewable (500 nit)

The Latitude ATG boasts a super-bright 500 cd/m2 LCD display with a special non-reflective coating. A typical laptop has a screen brightness of 185 cd/m2 to 220 cd/m2, so at 500 cd/m2, the ATG is easily viewable in even the brightest conditions.

14.1"WXGA (1280 x 800 resolution)

  Memory & Graphics

DDR2 Shared Memory DDR2 offers Dual-Channel capability for additional bandwidth & performance, reduced power consumption and scalability to help increase performance with processor & chipset bus architecture.

Maximum Memory:

Supports up to 4GB DDR SDRAM shared 667MHz

Intel  Graphics Media Accelerator X3100 (Up to 256MB shared4)

The GMA X3100 graphics core is an intelligent and responsive graphics engine built into the chipset that is on the motherboard. This integration provides incredible visual quality, faster graphics performance and flexible display options.

  Chassis Ports

Front: Power, WiFi, HDD, Bluetooth & battery status Indicators, keyboard status indictors, volume Controls
Left Side: Security lock, Headphone/Speaker out, 1394 port, PCMCIA slot, Smart Card Reader slot, WiFi Cather, Primary HDD
Right Side: 2 USB 2.0, Media bay supports Latitude D/Family devices pr secondary battery
Back: RJ45, RJ11, 2 USB 2.0, Serial, VGA, DC Power In
Battery: Primary 6-cell/56 WHr "Smart"Li-Ion battery featuring ExpressCharge , Primary 9-cell/85 WHr "Smart"Li-Ion battery Secondary 6-cell/56 WHr "Smart"Li-Polymer battery featuring ExpressCharge
Dimensions: 1.74"/44.09mm x 13.46"/342mm x 9.44"/240mm
Weight: 6.34lbs with 6-cell battery and CD-ROM (depends on configuration and manufacturing variability) –preliminary weight

  Additional Features

POWER:

Power Supply:

65 Watt or 90 Watt AC adapter with cord wrapping

Batteries featuring ExpressCharge :

Primary 4-cell/32 WHr

Primary 6-cell/56 WHr

Primary 9-cell/85 WHr with 90 watt AC adapter

Secondary 6-cell/48 WHr "Smart" Li-Polymer battery

WEIGHT & DIMENSIONS:

Starting at: 6.34 lbs/2.71 kg

Width: 13.16"/342mm

Depth: 9.44"/240mm

Height: 1.74"/44.09mm

CONNECTIVITY:

Wired:

Wired: 56K v924 Internal Modem 10/100/1000 Gigabit Ethernet network interface adaptor

Wireless:

Dell Wireless 5520 Mobile Broadband (Tri-band HSDPA 3.6) Mini-Card with service from AT&T (US) and Vodafone (select countries in Europe) Dell Wireless 5720 Mobile Broadband (EVDO Rev A) Mini-Card with service from Verizon Wireless (US) and Sprint (US)

WLAN

Dell Wireless 1390 (802.11g); Dell Wireless 1490 (802.11a/g); Dell Wireless 1505 (802.11a/g/Draft n); Intel PRO/Wireless 3945AG (802.11a/g); Intel PRO/Wireless 4965AGN (802.11a/g/ Draft n) Mini-Cards, Dell Wireless 360 Bluetooth 2.0 internal wireless card (upgradable to Bluetooth 2.1 EDR) (optional).

---

EXPANDABILITY:

PC Card:

One Type I or Type II

Supports 34mm ExpressCard via USB interface through PCMCIA adapter

Ports:

Serial, docking connector, 4 USB, VGA, headphone/speaker out, RJ-11, RJ-45, AC power, integrated microphone

Docking:

D/Port, D/Dock, D/View Laptop Stand, D/Monitor Stand

Modular Options:

DVDROM, 24X CD-ROM, 8X DVD +/-RW, 24X CDRW/DVD, Floppy Disk Drive, Secondary 6-cell battery, 80GB2 Hard Drive or Travel Lite Module

SECURITY:

Physical Security:

Cable Lock Slots, Media Module and Hard Drive Locks.

User & System Security:

Integrated Smart Card Reader, Trusted Platform Module 1.2 and optional UPEK  finger print reader. Wave Embassy  Trust Suite by Wave Systems security software.

Network Security:

802.11 WiFi Protected Access (WPA), 802.11i (WPA2), 802.1x with EAP modes, Single Sign On and compatible CCX 4.0