---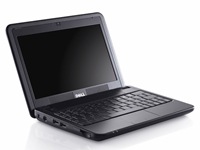 "Vostro A90" is a mininotebook personal computer that had a basic performance as the notebook computer and the enhanced communication environment in a small size and a light case of about 1kg in weight equipped with 8.9-inch liquid crystal monitor. Wireless LAN and Bluetooth installed by standard. The Web site and mail can be confirmed, and necessary information be acquired by using) by accessing the network in the company by easily accessing the Internet even in the destination.
Excellent SSD in durability is adopted for the recording medium, it excels in silence because it is a fanless specification in addition, and work with PC is possible do not worry about surroundings even by the discreet place.
Moreover, "Dell professional support" that is the support for corporate customer service is offered. Because it is possible to select it by adding necessary support service responding to customer's like IT full-time person's presence etc. besides "Basic support" standard like the receipt repair service and the technical telephone support etc. of 24 hours and 365 days business environments for one year, it is possible to use it at ease after the product is bought.
< feature of "Vostro A90" >
A necessary, recommended mobile function is offered by a simple product composition of the fixed specification.
Carry..weight..case..size. 31.7(H) Small size and light body of mm. Design based on black
Intel (R) of the latest low power consumption processor AtomTM processor N270 is installed. OS is Windows(R) XP Home Edition SP3 regular version (Japanese version) is adopted.
8.9-inch luster liquid crystal monitor that adopts the LED backlight is installed. 300,000-pixel web camera is installed in the upper part of the liquid crystal.
It is easily accessible to the Internet according to the wireless communication function by building into and wireless LAN and Bluetooth.
The extendibility is secured by installing of 3- in-1 card reader in addition to three universal serial bus ports.
Silence that a movable part and is excellent by an adoption and a fanless design of advantageous SSD of 8GB for carrying is achieved.
Simple product composition of affordable price and fixed specification new product series Vostro A series chiefly developed for small business in new country of the world, and feature"Vostro A90" becomes A series product following "Vostro A860" put on the market in August in Japan.
"Vostro" The introduction of new PC is postponed because of the time of the introduction and operation and viewpoints of the cost, and in the brand, the best product and the operation service matched to the scale and the usage are provided for the small business where the person in charge of IT of working full-time cannot be left by the best cost, and the customer's business growth is supported.
Vostro A90 composition
- Windows XP Home Edition SP3(Japanese version)
- Intel AtomTM processor N270
- 1GB DDR2-SDRAM
- 8GB SSD
- 8.9-inch luster liquid crystal display(1024x600)
- Building into and wireless LAN(802.11b/g correspondence)
- 300,000-pixel web camera
- Bluetooth Module(V2.1+EDR)
- Japanese keyboard
- Four cell battery
- 30W AC adaptor
- It is a receipt repair service for one year.
- Technical telephone support for 24 hours and 365 days(with E-mail support)