---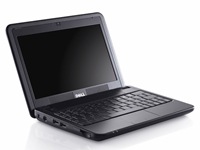 "Vostro A90" is a mininotebook personal computer that had a basic performance as the notebook computer and the enhanced communication environment in a small size and a light case of about 1kg in weight equipped with 8.9-inch liquid crystal monitor. Wireless LAN and Bluetooth installed by standard. The Web site and mail can be confirmed, and necessary information be acquired by using) by accessing the network in the company by easily accessing the Internet even in the destination.
Excellent SSD in durability is adopted for the recording medium, it excels in silence because it is a fanless specification in addition, and work with PC is possible do not worry about surroundings even by the discreet place.
Specs at a glance:
- Windows XP Home Edition SP3(Japanese version)
- Intel AtomTM processor N270
- 1GB DDR2-SDRAM
- 8GB SSD
- 8.9-inch luster liquid crystal display(1024×600)
- Building into and wireless LAN(802.11b/g correspondence)
- 300,000-pixel web camera
- Bluetooth Module(V2.1+EDR)
- Japanese keyboard
- Four cell battery
- 30W AC adaptor
- It is a receipt repair service for one year.
- Technical telephone support for 24 hours and 365 days(with E-mail support)
Dell™ Vostro™ A90
---