---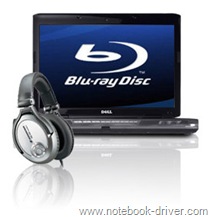 Mobile Gaming Supremacy
Dell's XPS M1730 is a mobile gaming stud. With exclusives like AGEIA® PhysXTM Accelerator and the latest next-gen NVIDIA® SLI® technology, the M1730 features an awe-inspiring design and cooler-than-thou features like a built-in stats tracker and 16-color, programmable LightFXTM lighting.
Performance to the Max
Feed your need for speed with the first Extreme Edition CPU for laptops. Overclock the M1730 up to 3.2 GHz with the Intel® CoreTM 2 Extreme Edition X9000.
Head-Turning Design
The M1730 is designed to take performance to the max with:
16-colour, RGB LightFXTM in the front speaker grill
Illuminated tail lights
An illuminated Dell badge
Customizable touchpad back-lightning
Aggressive lines and a high-tech hydrographic pattern
Multiple colour options, including Crimson Red, Sapphire Blue, Bone White and Smoke Grey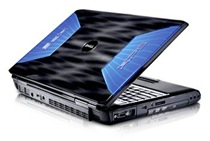 Extreme Mobility
With an comprehensive array of mobile features your M1730 is designed for gaming on the go. Get the M1730 and take advantage of ultimate wireless connectivity with:
Long-ranging wireless connectivity via internal mobile broadband
Bluetooth® peripherals
Dell's exclusive Wi-Fi catcherTM to find available hotspots even when you're powered down
Support for next-generation Wireless-N technology offering up to 5x faster connection speeds of 802.11g networks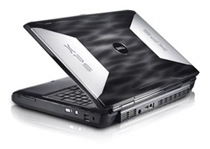 Digital Entertainment to Go
The M1730 also offers other top of-the line entertainment options including:
Full HD mobile movie viewing with optional Blu-rayTM Disc technology.
Dell MediaDirect for quick and easy access to your music and video files without booting your PC
Dual headphone jacks so you can share the experience
An express card travel remote control for added convenience
An optional TV tuner for TV on your PC
Big, Fast, Shockingly Real
Widescreen viewing, HD, blazing response times - the XPS M1730 makes no compromises.
Live the game on a staggering 17-inch widescreen UltraSharp WUXGA display with high resolution (1920x1200) and full HD 1080p support.
Avoid being fragged thanks to a blazing 7 millisecond screen response time.

Real Time Stats, Big Time Bragging Rights
Track your stats with the world's first built-in laptop Logitech® GamePanelTM LCD, and then crow eye-to-eye and loud and clear with the built in 2MP CCD camera and the built-in, dual digital array microphones.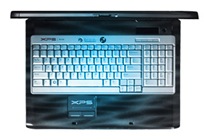 Stay in Control All Day and All Night
Use the M1730's illuminated, full-size keyboard to play even when the lights are off. Easily navigate the twists and turns of even the most harrowing strafing attack with the 10-key number pad.
Level Up
Choose your M1730 with:
Up to 4GB of DDR2 memory for more speed and a full-throttle gaming experience
2 SATA hard drives for up to 1/2 terabyte of storage capacity
Optional RAID 0 and RAID 1 functionality to boost your system performance
One of the world's first 64GB Solid State drives for lightning-fast random reads and highly reliable, durable and silent operations
Dell XPS M1730 Laptop Technical Specifications: