---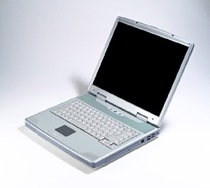 The A928 provides the desktop PC power, premium features, great display and superior performance. Featuring with Intel P4 platform, high performance 256-bit 3D graphics engine and speedy USB 2.0 ports, A928 is the powerful laptop with desktop solution.
- Built in Mobile Intel® Pentium® 4 CPU
- 14.1" XGA / 15" XGA (1024 x 768) TFT LCD display
- Built-in SiS® 315 graphic core and AGP4X supported
- Incorporates with 1394a port supporting data transfer rate up to 400Mbps
- DVD-ROM drive installed
- USB 2.0 host controller
ECS Notebook A928(v4.0) Windows 9x,2000, XP Driver Download
Hot Key
IR
Keyboard
LAN
Modem
Sound
TouchPad
USB
VGA
IMPORTANT NOTE:

Please read the notes carefully before updating BIOS.


1.
Do not update the BIOS if the system is running fine. Unsuccessful BIOS flash may cause the system fails to boot up. The manufacturer is not responsible for any BIOS flash failure.

2.
Make sure your M/B PCB version number first, and then read the updated description & special note carefully to check if the new BIOS version patch pertain to your current problem.
(How to recognize the M/B PCB version)

3.
Please DO NOT reboot system,unplug power supply and remove battery during BIOS update process.

4.
It is recommended to use the updated flash utility included in each BIOS download package.
(How to use flash utility).

| | |
| --- | --- |
| Manual | English manual for i-Buddie A928 |
| Version | N/A |
| Release Date | 2003/03/28 |
| Update Description | English manual for i-Buddie A928 |
| File Size | 1.95MB |
| Download | TaiwanUSAEuropeChina |
| | |
| --- | --- |
| Manual | French manual for i-Buddie A928 |
| Version | N/A |
| Release Date | 2003/03/28 |
| Update Description | French manual for i-Buddie A928 |
| File Size | 1.88MB |
| Download | TaiwanUSAEuropeChina |
| | |
| --- | --- |
| Manual | German manual for i-Buddie A928 |
| Version | N/A |
| Release Date | 2003/03/28 |
| Update Description | German manual for i-Buddie A928 |
| File Size | 1.79MB |
| Download | TaiwanUSAEuropeChina |
| | |
| --- | --- |
| Manual | Italian manual for i-Buddie A928 |
| Version | N/A |
| Release Date | 2003/03/28 |
| Update Description | Italian manual for i-Buddie A928 |
| File Size | 1.91MB |
| Download | TaiwanUSAEuropeChina |
| | |
| --- | --- |
| Manual | Japanese manual for i-Buddie A928 |
| Version | N/A |
| Release Date | 2003/03/28 |
| Update Description | Japanese manual for i-Buddie A928 |
| File Size | 2.05MB |
| Download | TaiwanUSAEuropeChina |
| | |
| --- | --- |
| Manual | Korean manual for i-Buddie A928 |
| Version | N/A |
| Release Date | 2003/03/28 |
| Update Description | Korean manual for i-Buddie A928 |
| File Size | 2.22MB |
| Download | TaiwanUSAEuropeChina |
| | |
| --- | --- |
| Manual | Polish manual for i-Buddie A928 |
| Version | N/A |
| Release Date | 2003/03/28 |
| Update Description | Polish manual for i-Buddie A928 |
| File Size | 1.99MB |
| Download | TaiwanUSAEuropeChina |
| | |
| --- | --- |
| Manual | Simplified Chinese manual for i-Buddie A928 |
| Version | N/A |
| Release Date | 2003/03/28 |
| Update Description | Simplified Chinese manual for i-Buddie A928 |
| File Size | 2.05MB |
| Download | TaiwanUSAEuropeChina |
| | |
| --- | --- |
| Manual | Spanish manual for i-Buddie A928 |
| Version | N/A |
| Release Date | 2003/03/28 |
| Update Description | Spanish manual for i-Buddie A928 |
| File Size | 1.95MB |
| Download | TaiwanUSAEuropeChina |
| | |
| --- | --- |
| Manual | Traditional Chinese manual for i-Buddie A928 |
| Version | N/A |
| Release Date | 2003/03/28 |
| Update Description | Traditional Chinese manual for i-Buddie A928 |
| File Size | 1.98MB |
| Download | TaiwanUSAEuropeChina |