---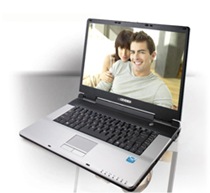 Do it all with the Everex® StepNote® NC1501.  Utilizing the VIA C7-M processor, the latest evolution of the Best-Selling NC1500 provides users with ENERGY STAR qualified, ultra-low power consumption, advanced security features and 1.5GHz performance at a mere 12W peak power, allowing the new StepNote to retain the title as the world's most energy efficient notebook.
Running genuine Windows Vista® Home Basic operating system, the NC1501 lets you watch and create your own CDs and DVDs on a 15.4" DiamondBrite widescreen display, email friends and family or surf the Internet with either the built-in 56k modem, broadband-ready 10/100 Ethernet port or wireless 802.11b/g.
Download Everex StepNote NC1501 Notebook Windows XP and Vista Drivers:
Everex StepNote NC1501 Notebook
Drivers (Windows® XP): Use and installation of software, drivers
and utilities not originally supplied with your Everex PC is not recommended or supported by Everex.  Use with caution.  Everex
does not take responsibility for incorrect usage, incompatibility or damage caused by installation of non-authorized software.  Everex recommends backing up any relevant information before installation.
File Name (Right click to download)
Audio (7.5MB): Installation utility for VIA TV1708A Vinyl High-Definition Audio. Version 1.0.000
Audio.zip
Chipset (5.2MB): VIA VN896 and VT8237A drivers
Chipset.zip
Readme.txt
LAN (560KB): VIA Rhine Family Fast Ethernet Adapter, Version 3.58
Modem (1.7MB): HDAUDIO Soft Data Fax Modem with Smart CP driver
modem.zip
Touchpad (2.0MB): Alps Touch Pad Driver Version 5.5.1402 with Installer
TouchPad.zip
VGA (8.8MB): VIA S3 Graphics drivers, version 2.00.35
VGA.zip
WLAN (3.7MB): Wireless LAN Communications, Inc. 10.50.0.125
Wireless_LAN.zip
Download Everex NC1500,NC1501,NC1501T Notebook Windows XP Drivers, Notebook VGA Driver,Audio driver,Chipset Driver, Touchpad driver,Wireless Driver,Lan Driver,Modem Driver.