---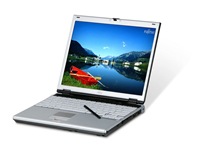 The Fujitsu Lifebook B6210 is powered by an Intel Core Solo U1400 1.20 GHz processor to handle even the most demanding business programs and applications. The 12.1" Touch screen allows you to easily navigate around applications and the internet efficiently with the stylus or your fingertip. The long battery life allows you to take the B6210 wherever you need to go, and the wireless options make sure that you'll be connected when you get there. Get a Fujitsu Lifebook B6210 Notebook for all your professional needs.
- Intel Core Solo U1400 1.20 GHz
- 12.1" XGA Touch Screen (1024 x 768)
- Intel Graphics Media Accelerator 950 Video Controller
- Networking: Ethernet 10/100/1000, 802.11a/b/g
- Weight: 3.2 lbs, Batttery Life: 8 hours
Fujitsu LifeBook B6210 Notebook Technical Specifications:
Model
B6210
Software
Operating Systems

Genuine Windows XP Tablet PC Edition 2005
or Genuine Windows XP Professional
Windows Vista™ Capable*

Software

Adobe Reader
Microsoft Internet Explorer
Windows Journal Viewer
Fujitsu Security Application Panel
LifeBook Application Security Panel
(with Genuine Windows XP Professional only)
Fujitsu HotKey Utility
Fujitsu FLASHAID
Touch Screen Calibration Utility
Fujitsu Driver Update Utility
Fujitsu Menu Utility
(with Genuine Windows XP Tablet PC Edition only)
Microsoft Experience Pack for Tablet PC
(with Genuine Windows XP Tablet PC Edition only)
TPM Driver and application CD

Optional Software

Depending on your system configuration, you may also receive:

Softex OmniPass for fingerprint sensor
Bluetooth Utility CD

Key Specifications
Processor

Intel Core™ Solo Processor Ultra Low Voltage U1400 (1.20 GHz, 2 MB L2 cache, 533 MHz FSB)

Chipset
Memory

Two DIMM slots
Max 2 GB (1 GB x 2)
DDR2 533MHz, 200-pin SODIMM

Display
LCD

12.1" XGA TFT display with touch screen.

Video Controller

Intel Graphics Media Accelerator 950.
Simultaneous and dual support for external monitor and internal display, multi-screen display support for graphic editing or presentations
Dynamic Video Memory Technology (DVMT) responds to application requirements and efficiently allocates the proper amount of system memory (up to 224 MB) for optimal graphics and system performance

Maximum Resolution

Internal display: 1024x768, 16M colours
External monitor: 1600x1200, 16M colours
Supports simultaneous display: 1024x768, 16M colours

Digitizer
Hard Drive1
80 GB, 60 GB, or 40 GB (4200 rpm), P-ATA 100, Shock-mounted; 16 GB or 32 GB Flash-Based Solid State Drive. (For bids only)
Audio

RealTek ALC262 with 16-bit HD audio
Headphone/line-out jack and mono microphone/line-in jack
Built-in microphone

Communications

Multinational2 56K3 V.90 modem (V.92 drivers available for download)
Gigabit Ethernet LAN

Wireless Communications
Wireless LAN

Atheros Super AG Wireless LAN (802.11a/b/g)

Wi-Fi, CCX and WPA certified
Dual-band diversity antenna
Antenna ON/OFF switch

Bluetooth

Optional Bluetooth (v2.0) Personal Area Network (PAN) for file transfer and data synchronization with other Bluetooth devices

User Interfaces

Integrated touchpad with scroll button
Intuitive touch screen
82-key full-size keyboard with 18 mm key pitch and 2 mm key stroke

Ports

Two USB 2.0
VGA
Modem (RJ-11)
Gigabit Ethernet LAN (RJ-45)
Headphone/line-out jack
Microphone/line-in jack
Docking connector

Card Slots

One Type II Compact Flash (CF) card slot
One Type I/II; 32-bit PCMCIA CardBus architecture (with built-in Smart Card reader)4

Security

Integrated Trusted Platform Module (TPM), TCG 1.2 compliant
LifeBook Applications/Security panel
Smart Card ready4
Optional AuthenTec Fingerprint Sensor with TruePrint Technology; 15 cm/sec slide speed (replaces scroll button with scroll function still intact)
Fujitsu Security Application panel
Two-level hard drive password protection
BIOS support for Computrace and LoJack for Laptops service (tamper-proof theft protection; requires service)5
Security lock slot

Battery6
Main battery

Lithium ion (6-cell 7.2V, 7800mAh, 56.2 WHr)
Provides up to 8 hours6 of battery life

AC Adapter

Auto-sensing dual voltage support, 100-240V AC supplying 16V DC, 3.75A

Dimensions/Weight

268 mm x 229 mm x 33 mm (10.55" x 9.02" x 1.29")
Approx. 1.4 kg (3.17 lbs.) with main battery

Operating Temperature

5°C to 35°C (41°F to 95°F), ambient temperature
20% to 85% relative humidity, non-condensing

Non-Operating Temperature

-15°C to 60°C (5°F to 140°F)
8% to 85% relative humidity, non-condensing

Compliance and Service Information
Compliance

FCC Part 15B Class B, FCC Part 15C, and FCC Part 15E
IC ICES-003 Class B and RSS-210
UL-cUL Listed
FCC Part 68
IC CS-03
CE Marking
ENERGY STAR

Warranty7

One year International Limited Warranty
24/7 technical support
Fujitsu extended service plans available
Accessible capacity may be less, due to formatting, applications and backup utilities.
The internal modems on all mobile computers from Fujitsu Canada, Inc. are only qualified for use with telephone systems in selected countries, including the United States and Canada. For a list of certified countries, please check http://www.computers.us.fujitsu.com/modems.
Actual speeds over North American telephone lines vary, and are less than 56K due to current FCC regulations and line conditions.
Requires optional Smart Card Holder in order to access the reader. Third-party Smart Card and application required.
Requires Computrace or LoJack for Laptops service.
Battery life estimates reflect the results of BAPCo MobileMark2002 Productivity Workloads performed upon systems with battery life setting enabled. Actual battery life will vary based on screen brightness, applications used, features selected, power management settings, battery conditioning, and other customer preferences. DVD/CD-RW, DVD Writer, LAN, wireless LAN or hard drive usage may also have a significant impact on battery life.
Service and warranty turnaround time may vary by country and product. The international warranty is only valid for products purchased in North, Central, and South America.
*Not all Windows Vista™ features are available for use on all Windows Vista Capable PCs. All Windows Vista Capable PCs will run the core experiences of Windows Vista, such as innovations in organizing and finding information, security, and reliability. Some features available in premium editions of Windows Vista -- like the new Windows Aero™ user interface -- require advanced or additional hardware. Check www.windowsvista.com/getready for details. Specifications are subject to change without notice.