---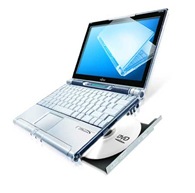 Weighing under 3.5 pounds and only 10.27? x 7.8? x 1.55?, the LifeBook P5010 notebook combines an ultraportable form factor, a high-performance Intel Pentium M processor, and unprecedented entertainment functionality to create a mobile solution ideal for professionals, students, and technology enthusiasts alike.
With dual battery configurations, the LifeBook P5010 notebook is always ready when you are. The standard high-capacity battery provides a battery life of up to 5.5 hours. Install the optional bay battery and achieve up to 10.5 hours of battery life. The tight interaction between Fujitsu design, manufacturing and service engineers creates some of the highest quality products offered in the PC market. In a time when most PCs are assembled by third-party vendors, Fujitsu takes pride in its world-class tightly integrated design and manufacturing capabilities.
Tips: difference at Lifebook P5010 and P5010D, P5010 is Intel PRO/Wireless 2100 (802.11b), but P5010D is Broadcom wireless LAN Module;
Download Fujitsu Lifebook P5010, P5010D Notebook Windows 2000, XP Drivers:
Windows 2000 Drivers
Driver Name
Version
Size
Alps TouchPad
V.5.3.401.5
657k
Audio
V.5.10.00.5150
4,377k
Chipset
V.4.30.1006
2,321k
Fujitsu Battery Aid
V.1.26
1,351k
Intel SpeedStep
V.3.0
1,265k
LAN
V.5.505.1004.2002
1,916k
MemoryCardBus
V.1.0.7.4
4.74MB
Modem
V.2.1.2.1
814k
USB 2.0
V.5.1.2600.0
115k
Video
V.6.14.10.3553
6,940k
Wireless LAN (Broadcom Module) for P5010D
V.4.100.15.5
79,600,711
Wireless LAN (Intel Pro/Wireless 2100 3B Module)
V.1.2.4.41
13,200,340Bytes
Download Fujitsu Lifebook P5010 Notebook Windows 2000, XP Drivers, Video Driver, Display Driver, Audio, Sound Driver, Chipset Device Driver, Modem Driver, Fujitsu Hotkey Utility, Fujitsu Tablet Button Driver, Fujitsu Battery Aid, Fujitsu Button Utility, Lan Driver, Wireless Lan Driver, Touch Panel Driver, Touchpad Mouse Driver, Memory CardBus Driver.