---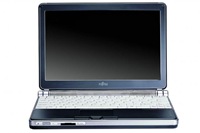 Aside from the problems with keeping a wireless connection, the LifeBook P7010D was a pleasure to use. It's compact size and excellent display made it very to work with and use anywhere. If you are looking for a really compact notebook computer this is a great choice - just go with the Intel PRO/Wireless option. The fingerprint identification is another great aspect of this notebook.
- 1.1GHz Intel Pentium M Ultra Low-Voltage 713
- Intel 855GM chipset with up to 64 MB shared memory
- 10.6" wide-format Crystal View XGA LCD, 1,280 x 768 resolution
- Intel PRO/Wireless 2200BG Network Connection (802.11b/g) or Atheros (802.11aa/b/g)
- 8X DVD-ROM/24X CD-R/16X CD-RW/24X CD-ROM
Fujitsu LifeBook P7010D Notebook Technical Specifications:
Processor
Intel® Pentium® M Processor Ultra Low Voltage 713 (1.10 GHz, 400 MHz FSB, 1 MB L2 Cache)
Intel® Pentium® M Processor Ultra Low Voltage 753 (1.20 GHz, 2 MB L2 cache, 400 MHz FSB)
Intel® Celeron® M Processor Ultra Low Voltage 373 (1 GHz, 512 KB L2 cache, 400 MHz FSB)
Choice of Microsoft® Windows® XP Home or
Microsoft® Windows® XP Professional
ChipsetMemory
¹
256 MB minimum; 1 GB maximum; two micro DIMM slots; 256 MB micro DIMM or 512 MB micro DIMM (DDR 333)
Video
10.6" wide-format XGA Crystal View TFT display
Internal max: 1280 x 768 resolution, 16M colors
External max: 1600 x 1200 resolution, 16M colors
Intel 855GM chipset with up to 64 MB shared memory delivers low-power, high-performance 2D/3D graphics, video, and display capabilities. Dynamic Video Memory Technology (DVMT) dynamically responds to application requirements and efficiently allocates the proper amount of memory (max. of 64 MB) for optimal graphics and system peformance.
Simultaneous support for external monitor and internal display
Multi screen display support for graphic editing or presentation
Storage
80 GB, 60 GB or 40 GB hard drive² (4200 RPM)
External USB floppy disk drive (optional)
Modular Media Drive
Modular DVD/CD-RW combo drive (8x DVD/16X CD-R/24X CD)
Also supports optional modular bay battery
Audio
Realtek ALC202 with 16-bit stereo sound
Lineout/Optical Digital Out (SPDIF)
Headphone and microphone jacks
Dolby® Headphone Utility to emulate realistic surround using conventional stereo headphones while watching movies.
Communication
Built-in multinational³ 56K4 V.90 modem and 10/100 Ethernet (V.92 drivers available for download)
Integrated dual-band Atheros wireless LAN (802.11a+b/g); antenna ON/OFF switch; CCX and WPA certified
User Interfaces
Touchpad with scroll button
82-key full-size keyboard with 18 mm key pitch and 2 mm key stroke
Interface Ports
Two USB 2.0, IEEE 1394, S-Video, external monitor adapter, RJ-11 (modem), and RJ-45 (Ethernet) ports
Media Slot
Compact Flash card slot, and Memory Stick PRO/SD Card slot
PC Card Slots
Type I or Type II (one slot)
32-bit PC CardBus architecture
Batteries
Up to 7.5 hours5 with standard high-capacity main lithium ion battery
Up to 11 hours5 with standard high-capacity main battery plus Modular Bay battery
AC Adapter
Auto-sensing dual voltage support, AC100-240V
DC 16V, 3.36A
Dimensions and Weight
10.47"(w) x 7.83"(d) x 1.26"/1.42"(h)
Only 3.27 lbs with combo drive and high-capacity main battery
Approximately 3 lbs with weight saver and high-capacity main battery
Pre-installed Software
Microsoft Works®, Quicken® New User Edition 2003, Adobe® Acrobat Reader, Earthlink®, Fujitsu HotKey Utility, PowerQuest® Drive Image™ Special Edition, Symantec Norton Antivirus™ 7, Netscape®, Microsoft® Internet Explorer, WinDVD4, RecordNow
Application Software on CD
Depending upon your system configuration, you may also receive the following applications: Record Now!, Intervideo WinDVD4, and WinDVD Creator Plus.
Energy Star-compliant
FCC part 15 Class B and Subpart "C"
UL and cUL approved
Industry Canada RSS210
CE Mark, ETS 300-826
Warranty
One-year or Three-year International Limited Warranty6
24x7 technical support
Fujitsu Premium Care service plans available
¹In order to upgrade your memory to 512 MB, remove the 256 MB memory module.
²Accessible capacity may be less due to formatting, applications, and backup utilities. For maximum user convenience and confidence, 1.5 GB of the drive is partitioned and the original factory image is stored there. PowerQuest® Drive Image® Special Edition, a system recovery utility, can be used to restore the computer to its original state at any time.
³The internal modems on Fujitsu notebooks of Fujitsu Computer Systems are only qualified for use with telephone systems in selected countries, including the United States and Canada. For a list of certified countries, please check www.computers.us.fujitsu.com/modems
4Actual speeds over U.S. telephone lines vary, and are less than 56 Kbps due to current FCC regulations and line conditions.
5Battery life estimates reflect the results of Ziff Davis Business Winstone 2001 BatteryMark 1.0 as performed upon systems with maximum battery life setting enabled. Actual battery life will vary based on screen brightness, applications used, features selected, power management settings, battery conditioning, and other customer preferences. CD, DVD, CD-RW, LAN, Wireless LAN or hard drive usage may also have a significant impact on battery life. Requires primary battery and optional second bay battery for maximum battery life.
6Service and warranty turnaround time may vary by country and product. International warranty valid only for products purchased in North, Central, and South America.
7Preinstalled with a free 90-day trial version of Symantec?s Norton AntiVirus? 2003. The 90-day trial version is activated upon user's acceptance of software license agreement. After 90 days, the user must purchase a subscription from Symantec to download latest virus definitions.