---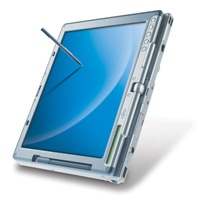 For mobile workers, the Fujitsu LifeBook T3010 Tablet PC is like having two mobile gadgets in one. With the ability to use the Tablet PC in either notebook or Tablet PC mode, it increases the functionality and usability for mobile workers. It can be used effectively in just about any situation and enable mobile workers to maintain a high level of productivity and stay connected to their company network or the Internet easily.
• Designed for Microsoft® Windows® XP Tablet PC Edition
• Seamless Wi-Fi connectivity
• 12.1" XGA TFT active digitiser
• 2GB maximum memory support
• Programmable security features
Download Fujitsu LifeBook T3010 Tablet PC Windows XP Tablet Drivers
Download Fujitsu LifeBook T3010 Notebook Windows XP Tablet Edition Drivers, Video Driver, Display Driver, Audio, Sound Driver, Chipset Device Driver, Fujitsu Hotkey Utility, Fujitsu Tablet Button Driver, Memory Card Slot Device Driver, ACPI Device Driver, Lan Driver, Wireless Lan Driver, Touch Panel Driver, Touchpad Mouse Driver, Security Panel.