---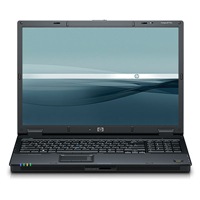 The HP Compaq 8710w Mobile Workstation redefines power on-the-move by combining the best in visualization and computational power into a sleek design with a 17-inch diagonal display to form HP's highest performing mobile workstation.
Workstation caliber graphics: - OpenGL, DirectX10, and Dual Link DVI (through optional dock) deliver faster rendering and support ultra-high resolution displays. Blu-ray Drive plays high-definition (HD) content or stores up to 50GB on a dual-layer disc.
Powerful computing: - Run demanding applications with true 64-bit computing and support for up to 4 GB of memory. Intel Centrino Pro processor technology helps reduce the TCO of your PCs with built-in remote manageability and proactive security.
Workstation benefits: - Workstation ISV certifications ensure reliable use of demanding applications. HP Performance Tuning Framework (PTF) provides custom workstation setup to better meet your requirements and increases select application performance.
HP Compaq 8710w Mobile Workstation Notebook Technical Specifications:
System features
See detailed specs

US QuickSpecs » html » pdf

Operating system

Genuine Windows Vista® Business
Genuine Windows Vista® Business with downgrade to Windows® XP Professional custom installed
FreeDOS

Processors available

Intel® Core™ 2 Duo Processor T9500 (2.6 GHz, 800 MHz FSB, 6 MB L2 cache)
Intel® Core™ 2 Duo Processor T9300 (2.5 GHz, 800 MHz FSB, 6 MB L2 cache)
Intel® Core™ 2 Duo Processor T8300 (2.4 GHz, 800 MHz FSB, 3 MB L2 cache)
Intel® Core™ 2 Duo Processor T7800 (2.6 GHz, 800 MHz FSB, 4 MB L2 cache)
Intel® Core™ 2 Duo Processor T7700 (2.4 GHz, 800 MHz FSB, 4 MB L2 cache)
Intel® Core™ 2 Duo Processor T7500 (2.2 GHz, 800 MHz FSB, 4 MB L2 cache)
Intel® Core™ 2 Duo Processor T7300 (2.0 GHz, 800 MHz FSB, 4 MB L2 cache)
Intel® Core™ 2 Duo Processor T7250 (2.0 GHz, 800 MHz FSB, 2 MB L2 cache)
Intel® Core™ 2 Duo Processor T7100 (1.8 GHz, 800 MHz FSB, 2 MB L2 cache)

Chipset

Mobile Intel® PM965

Specialized Design

Intel® Centrino® with vPro™ processor technology capable on select models

Memory
Memory

1 GB 667 MHz DDR2 SDRAM
2 GB 667 MHz DDR2 SDRAM
4 GB 667 MHz DDR2 SDRAM
Up to: 8 GB 667 MHz DDR2 SDRAM

Memory upgrade

Upgradeable to 8 GB maximum (4 GB SODIMM in Slots 1 and 2)

Storage
Hard drive

120 GB 5400 rpm SATA
160 GB 5400 rpm SATA
250 GB 5400 rpm SATA
160 GB 7200 rpm SATA
200 GB 7200 rpm SATA

Optical Drives

DVD
DVD/CD-RW combo
DVD+/-RW SuperMulti with Double Layer
LightScribe DVD+/-RW SuperMulti with Double Layer
Blu-Ray Disc DVD+/-RW SuperMulti DL

Graphics and Input/Output devices
Display size

17.0-inch diagonal WSXGA+ WVA, anti-glare; 17.0-inch diagonal WSXGA+ WVA, BrightView; 17.0-inch diagonal WUXGA WVA, anti-glare

Graphics

NVIDIA Quadro FX 1600M graphics, with 512 MB dedicated video memory
NVIDIA Quadro FX 3600M, with 512MB dedicated video memory - coming soon
Microsoft DirectX10 support
OpenGL support

Audio, Slots, and Ports
Ports

External:
6 USB 2.0
1 1394a
1 RJ-11
1 RJ-45
1 microphone in
1 headphone/line-out
1 docking connector
1 HDMI
1 battery connector
1 external VGA monitor
1 AC power
Slots

1 Type I/II PC card
1 integrated Smart Card Reader
1 secure digital

Audio

High Definition Audio support w/24-bit DAC; Integrated stereo speakers; Integrated microphone; Touch-sensitive controls for volume up, volume down, and mute; Stereo headphone/line out; Stereo microphone in

Communication features
Network interface

Integrated Intel Gigabit Network Connection (10/100/1000 NIC)

Modem

56K V.92 modem with digital line guard

Wireless

Intel 802.11a/b/g draft n; Intel 802.11a/b/g; Broadcom 802.11a/b/g; Bluetooth 2.0

Product specifications
Weight

7.5 lb (3.4 kg)

Dimensions (w x d x h)

15.50 x 10.80 x 1.30 in (393 x 275 x 33 mm)

Energy Efficiency
Energy Efficiency

ENERGY STAR® qualified

Battery

8-cell (73 WHr) Lithium-Ion

Power supply

External 120-watt Smart AC adapter, 6-foot (1.8-meter) power cord included; Total length including external AC adapter is 12 feet (3.66 meter); HP Fast Charge

Manageability
Security management

HP ProtectTools Security Manager; HP Fingerprint Sensor; Integrated Smart Card Reader; Configuration Control Hardware; Memory Change Alert; Ownership Tag; Setup Password; Power-On Password; TPM 1.2 Embedded Security Chip (disabled where use is restricted by law); TPM Enhanced DriveLock (disabled where use is restricted by law); HP Disk Sanitizer; HP 3D DriveGuard; Kensington Lock Slot; Optional Privacy Filter