---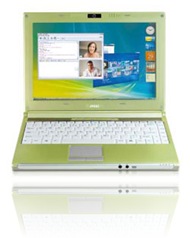 Outstanding in Brilliant Coloring:
The VR220 YA Edition integrated ingenious designs with the youthful colors of Denim Blue, Coral Pink, and WASABI Green creating slickness in quality and outstanding styling. Added with the exquisite MSI Logo for even more attraction. Furthermore, the concept of design can even be seen on the touch pad and the keyboard. The VR220 is a complete fashion package, not compromising on the smallest details.
12" Ultra Lightweight Design with Magnesium Alloy Casing:
Equipped with a thin12 inch screen, the body is around 30 centimeters long, 23 centimeters wide. The entire Notebook Computer is less than 1.8 kilograms in weight with the battery. The exterior is made with Magnesium Alloy Casing for lightness and mobility.
The Smartest and the Quickest Solutions, and it is Also Fun
Extraordinary Performance, The VR220 YA Edition is embedded with the latest Intel® Pentium® Dual-Core/Celeron processor, the most advance technology and functions. It can offer you the best assistance at work, and the most fun when you want to be entertained. As for other functions, there is the build-in 3 in 1 Card Reader and the multimedia burner drive so your digital photo and video cameras can be quickly connected with the notebook computer, along with the professional software that comes with your
purchase, finishing up all the editing process in 3 simple steps, and that goes for DVD or audio production as well. As for internet connection, the VR220 YA Edition selected the very best 802.11 b / g/n wireless internet capability, so you can be connected to the cyber world regardless if you are at a café, in school, from your office, or to an airport, never missing a beat. Furthermore, the VR220 YA Edition is equipped with Bluetooth wireless capabilities adaptable to cell phones, headsets, PDA's, and others. Saying goodbye to all the complicated wirings.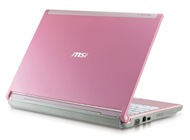 The ACV (Amazing Crystal Vision) Widescreen Display, ACV technology also gives you the most detailed and intricate images, resulting in high saturation and high definition quality for a luxurious visual sensation that's easy on the eyes. Even after long periods in front of the VR220 YA Edition, your eyes won't feel uncomfortable.
Communicate and Entertain Without Distraction
Built-in 1.3 Mega Pixel Webcam, You can create amazing videos, shoot still photos or add live videos your instant messages while you chat.
Watch TV Anywhere * ,The integrated DTV receiver allows you to watch and record TV programs right on your notebook. Simply connect the antenna and you'll never have to miss an episode of your favorite TV program again!
* This function is optional, the Digital TV configuration and channels will vary by region.
MSI VR220 YA Edition Notebook Technical Specifications:
Processor & Cache
Intel® Pentium® Dual-Core/Celeron processor
Operating System
Windows Vista® Home Premium
Chipsets
Intel® GL40+ICH9M Chipset
System Memory
DDR2 667 ,Max:4 GB
LCD Display
12.1" WXGA (1280 x 800) Display
Graphics & Video Module
UMA
Audio
2 speakers
HDD
160GB/250GB/320GB SATA
Optical Drive
DVD Super Multi
Webcam
1.3M
Card Reader
3 in 1 (SD/MMC/MS)
Communication Port
Built-in Gigabit Ethernet LAN and Modem module
Built-in 802.11b/g/n WLAN Card
I/O Port
D-Sub X 1
USB2.0 Port X 3
Mic-in Port X 1
Headphone Output X 1
LAN Port X 1
Modem port X 1
AC Adaptor
65W
Battery Pack & Life
4/8 cells
Dimension & Weight
303(L) X 231(D) X 24-30(H)mm
1.8KG (W/Battery)