---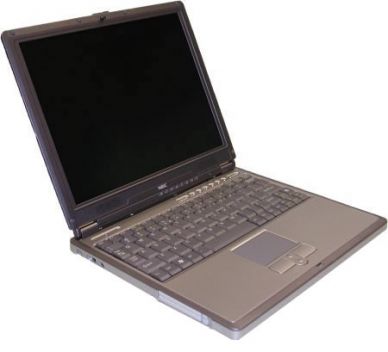 - Intel Pentium III-M 1.2 GHz
- 256 MB on board.SO-DIMM SDRAM 133 Mhz.
- ATI M6-C8 (Radeon Mobility). VRAM: 8MB.
- 12.1 " XGA TFT LCD
- Intel 82551QM Fast Ethernet on board.
- Wireless 802.11b Mini PCI card ORiNOCO
- VIA VT82C686B embedded controller
NEC Versa S260 Notebook Specifications overview
This configuration describes a system with different options. The final configuration depends on the order placed on line.
Specifications Overview
Versa S260
Operating System
Microsoft?Windows?XP Professional
Processor
Intel Pentium III-M 1.2 GHz
Chipset
North Bridge: VIA VT83C694T / South Bridge: VIA VT82C686B
Memory
1 x SO-DIMM Slot free.
256 MB on board.
SO-DIMM SDRAM 133 Mhz.
Expand. in 128, 256, or 512 MB increments.
768 MB~1 GB max.
Video
ATI M6-C8 (Radeon Mobility). VRAM: 8MB.
LCD
12.1 " XGA TFT LCD
LAN
Intel 82551QM Fast Ethernet on board.
LAN Wireless 802.11b
Mini PCI card ORiNOCO
Audio
VIA VT82C686B embedded controller. Audio Codec AD1886.
MDC Modem
Askey Lucent 56K
I/O port
1 x VGA
2 x IEEE 1394 Firewire
3 x USB 2.0
1 x Mic-In/Audio-in

1 x Audio-out/SPDIF
1 x RJ-11
1 x RJ-45
1 x TV-out (RCA)
PCMCIA slot
2x Type II or 1 Type III PC Card
CDD/RW/DVD
FDD
24x CD, 8x/24x DVD, 8x/8x/8x/24x Combo DVD/CD-RW
No internal FDD
HDD
20/30/40 GB (ATA 100)