---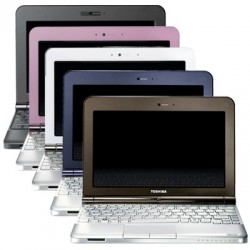 Toshiba range of mini notebooks are available in two screen sizes with weights starting from only 1kg. Ideal to browse the web or check on emails. Toshiba's renowned build quality makes the NB100 and NB200 ideal for education or as a secondary laptop.
Our new mini NB200 redefines the computing experience available on a laptop. The new design with a generous 10.1" TruBrite display is contemporary with enhanced protection and build quality fitting for a Toshiba brand. The near full-size keyboard instantly makes the NB200 much easier to use and broadens the appeal to a new generation of users.
Awards
Trusted Reviews Recommended Award & 9/10 rating, June 2009 | NB200-10Z.
'Register Hardware Recommended' accolade & 90% rating, July 09 | NB200-110.
What Mobile Editor's Choice Award & 5 Star Rating, October 09.
Electric Pig 5 Star Award, 10th September 09.
Toshiba NB100 Series

Toshiba NB200 Series


Operating System

Genuine Windows® XP Home Edition
Linux Ubuntu 8.04

Operating System

Genuine Windows® XP Home Edition


Processing Technology

Intel® Atom™ processors

Processing Technology

Intel® Atom™ processors

Screen size

8.9" Widescreen TruBrite® VGA (1024 x 600) High Brightness display

Screen size

10.1" TruBrite® Widescreen SVGA (1024 x 600) TFT display with LED backlight

Weight

starting from 999g

Weight

starting from 1.18 kg

Graphics

Intel® GMA 950

Graphics

Mobile Intel® GMA 950

Wireless

Wireless LAN 802.11 b/g with Mobile Broadband WWAN/3G (HSDPA) on selected models

Wireless

Wireless LAN 802.11 b/g plus Bluetooth™ or Mobile Broadband WWAN/3G (HSDPA) on selected models

Multimedia Drive

External Drive - Optional

Multimedia Drive

External Drive - Optional

Integrated Webcam

0.3 mega pixel WebCam

Integrated Webcam

0.3 mega pixel WebCam

Colour

Choice of Cosmic Black, Champagne Gold or Bright Silver

Colour

A choice of Satin Brown, Snow White, Indigo Blue, Silky Pink or Gloss Black

Warranty

1-year international warranty

Warranty

1-year international warranty