---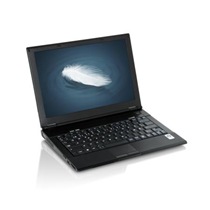 Notus – Mobility redefined
The name "Zepto" is Greek, and the same goes for Zepto's new 12,1", called after the Greek God of the Wind Notus. According to Greek mythology Notus was the most southern of the four powerful windgods, and was responsible for bringing the powerful gales in the late summer and early autumn.
The name Notus supports the symbolism of the machine's lightness and souvereign mobility. Despite its small size, this exclusive 12,1" notebook delivers performance beyond expectation.
LED Backlit Screen
Notus is built on Zepto's Crystal Clear screen, displaying colours naturally and with excellent contrast. As a new feature the screen lights up with LED's, which are small diodes displaying a poweful light when under low voltage. This feature helps to decrease power consumption further.
Intel Low Power CPU
CPU is 800MHz Intel A110 Processor of Intels latest Diamondville-series. This series is extremely power saving and provides enough performance to run simple word processing, communication via Messenger and playing of movies and music.
Waterproof keyboard etc.
Notus is designed to withstand accidents like the spilling of water on the keyboard. Around the keyboard, the power button, the shortlist keys and the touchpad the machine is waterproof for extra protection against accidents.
Zepto Notus A12 Mobility Laptop Technical Specifications:
Model
Zepto Notus A12 Mobility Laptop

Display

12.1" WXGA (1280 x 800)

CPU

Intel® A110 CPU 800MHz, 512KB Cache, FSB 400MHz

Chipset

Intel® 945GU + ICH-7U

Memory

1GB DDR2 667MHz RAM SO-DIMM, Max. 1GB

HDD

80GB 4200rpm ATA Hard Drive

Graphics

Intel® Graphics Media Accelerator 950, 224MB shared memory

OS

Windows® XP (32bit) Supported (optional)
Windows® Vista (32bit) Supported (optional)

Audio

Realtek® ALC262 High Defi nition audio quality
Microphone-in and headphone-out
1x Stereo 1.0W speaker

I/O Ports

1x RJ-45 jack
1x RJ-11 jack
3x USB 2.0
1x RGB; VGA port, 15pins
1x PCMCIA Card Slot
1x Digital audio (S/PDIF)
4-in-1 Card Reader (SD/MS/MS Pro/MMC),

ODD

Samsung® Dual Layer USB powered, CD/DVD-RW (optional)

Communication

Internal modem - V.92/56K bps
Realtek® 10/100/1000 Mbit LAN
Integrated Wireless LAN 802.11 a/g/n
Integrated Bluetooth 2.0

Battery

6-cells Li-Ion (11.1V/5100mAh)

Adapter

Universal AC adapter.100-240V AC,50~60HZ
45W med 15V DC + 3 pin 240V AC cable

Dimension

296mm(W) x 209mm(D)x 13.5mm(H)

Weight

1.3 kg

Extra

1x Kensington® Lock connector
[Zepto]