---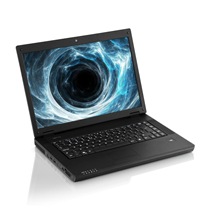 The name 'Zepto' is Greek. The same goes for this series named after the Greek goddess Nox. According to Greek mythology Nox was goddess of the night and a figure with exceptional powers.
The name Nox symbolises this series' unparalleled performance, new technology and Danish design. The black, minimalistic look, casted in exclusive and robust material, is stylishly combined with a discretely illuminated Zepto logo.
Powerful and upgradeable graphics solutions
The Zepto Nox is built on the Nvidia MXM platform, which means you will be able to upgrade your Nox for year to come.
The Zepto Nox offers superior business, gaming or multimedia graphics with Geforce 9600M GT 512MB DDR3 (600/1600MHZ). Features intelligent graphics power and is Nvidia PhysX and CUDA Ready. The choice for the business professional, gamer, or multimedia user.
NVIDIA CUDA
The powerful graphics solutions also enable you to use special features such as the Nvida CUDA technology. CUDA enables you to use the graphical processor for video encoding and other cpu intensive applications speeding up your notebook to more than 12 times the regular speed.** Rollover the below demonstration.
Zepto LED night mode
The Night LED mode enables you to turn off the visual indicators on the notebook such as power, battery, wireless etc. for optimal night time lighting when viewing DVD's, Blu-ray or picture material. Only the hard drive indicator will remain on to show you if the notebook is working.
Zepto Mythos A15 - Design Laptop Technical Specifications:
Model
Zepto Nox A15

Display

15,4" WXGA (1280x800) (optional)
15,4" WSXGA+ (1680x1050) (optional)

CPU

Intel® Core 2 Duo, 1066MHz FSB,
Intel® Celeron 667 MHz FSB

Chipset

Intel® PM45 + ICH9-M

Memory

DDR2 667MHz RAM Support Max 4GB
DDR2 800MHz RAM Support Max 8GB

HDD

SATA HDD Support (5400/7200RPM), SSD SATA HDD Support

Graphics

NVIDIA® 9600M GT 512MB GDDR3

OS

Windows® XP ™ (SP2) (optional)
Windows® Vista™ Premium (32bit) (optional)
Windows® Vista™ Premium (64bit) (optional)
Linux Support

Audio

Realtek® ALC268 High Definition audio quality

I/O Ports

3x USB 2.0
1x HDMI out
1x Headphone jack
1x Microphone jack
1x Line-in jack
1x Digital audio (S/PDIF)
1x RJ-45 jack
5in1 Card Reader (MS/MS Pro/MMC/SD/xD)

ODD

DVD-R / CD-RW SATA
Blu-ray / DVD-RW / CD-RW SATA

Communication

Built-in Bluetooth 2.0 EDR
Built-in Gigabit Ethernet LAN
Wireless LAN - 802.11 b/g/n (optional)

Battery

6-cells Li-Ion
9-cells Li-Ion (optional)

Dimension

360mm(W) x 257mm(D) x 34mm(H)

Weight

2.8 kg

Extra

TV Tuner (optional)
Webcam 2.0 MegaPixel
Fingerprint module
DVI Support (optional adapter)
Robson 2.0 (optional)
[Zepto]